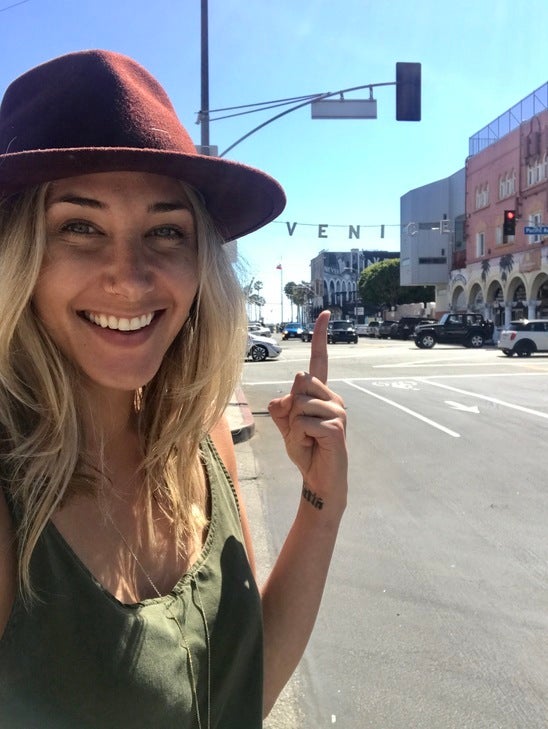 Tired of being a broke comedian and fighting for stage time, Alex Thomopoulos says, "I didn't love comedy enough to be in the game anymore, something was missing in my life." It's no surprise that she turned to cooking to find comfort. Thomopoulos grew up with a strong sense of food and family from her mom, Cristina Ferrare, a former model, best selling cookbook author and television host. "I started cooking as a form of therapy and realized I was very happy to be back in the kitchen." She pushed her comedy and acting aspirations aside to enroll in culinary school in Los Angeles.
While studying she was asked to be a private chef on a movie set where ironically she was working for comedy legends. It could have felt like a bad joke but for Thomopoulos it was a dream job. She quickly picked up more private chef gigs with entertainment industry clients which led to the launch of her own catering business.
The entrepreneurial life of catering became her focus but Thomopoulos missed making people laugh, she felt that she had lost her voice for a bit. While she earned her culinary degree she never let go of her craving for comedy, it's core to who she is.
Her A-ha moment came when she realized that what she was missing her culinary world was her unique voice. "To differentiate myself in the crowded food space, I realized that I had to just be myself and not try to be a food blogger when I hate writing. I'm a terrible writer. I'm dyslexic. While my food looked great my writing wasn't very strong and I didn't want to engage with people via text and writing. I want to talk to people- it's what I love. I've accepted my voice and enjoy putting the real me out there." And by 'out there' she means on social media, specifically Instagram stories.
Thomopoulos began to share bits about her life on social media and the response and engagement were the missing ingredient in her recipe for career success. It was that magical full circle feeling; publicly sharing the right combo of sweet and salty humor. She posts stories about the stresses of chef life along with a generous helping of self deprecating humor and tell it like it is reality. Whether she's eating In & Out burgers while complaining about PMS or calling out followers who make an annoying comment – there's no filter. She's authentic. She also shares her softer side too; passionate about not wasting food and handing it out whenever possible.
Everything she's done up until now seems to have serendipitously led her to another dream opportunity after some let downs along the way. But tough times can make for good comedy.
After several years as a private caterer, Thomopoulos recently had the opportunity to move to Nashville and open a restaurant with a NY based partner who was going to be the celebrity chef while she ran the venue. But the dream was short lived. Thomopoulos says, "With Nashville booming with up and coming inventive chefs it sounded like the perfect situation. The whole restaurant was designed but we couldn't come to terms on a lease agreement so we had to walk away. I found myself in a total place of flux."
She mentioned to her manager that she didn't know what her next steps would be. At the same time, he was talking with entrepreneurs Sam Trude and Sam Cooper about their current situation- they were on the hunt for a young, inventive chef who shared their same passion for food and beach culture for their new space they were working on in the heart of Venice. He recommended Thomopoulos and they hired her just eight weeks out from opening day. She packed up her life in Nashville and headed back to her L.A. roots to immediately develop the menu.
Great White will be a fast casual restaurant in the heart of Venice Beach (opening July 2017) that pays homage to Trude and Cooper's love of beach culture from their Australian homeland and their travels throughout Europe. Thomopoulos brings a passion and talent for the type of clean California inspired cuisine that will be served. She says, "We want people to come three to four times a week. We're not trying to reinvent the wheel or win an award. I want to cook the food that people want to eat… real, delicious and accessible."
When asked to describe the type of food Great White will serve Thomopoulos laughs, "We have a joke in the office saying it'll be 'modern, rustic, local, seasonal, farm to table, #livelovelaugh,' everything that's already covered in so many L.A. spots… but we'll be doing everything in a very special way. We're serving food for simple everyday cravings inspired by beach cafes all over the world. I was unaware of the magnitude of the cafe experience in Australia but it's very produce driven, very farm to table fresh. You get out of the surf, grab an amazing avocado toast or salad/grain bowl, great smoothies and coffee is also key. We are all very hospitality driven and want people to feel really welcome and comfortable while enjoying a great meal."
Great White will be open for breakfast and lunch to start, once they are obtain a liquor license they'll add dinner. Thomopoulos is excited about the added creativity that comes with dinner service. In the meantime she says, "We'll have ten items for breakfast, ten for lunch and we're house making a lot of stuff. We're curing our own salmon for tartines, baking our own hamburger buns, granola, pickles and ricotta. In order to differentiate doing the simple stuff you've got to be able to put the work in with the important items. Fresh made ricotta sends you into a different category." The restaurant will also offer gluten free items, a specialty of Thomopoulos.
The Venice Beach Community
Thomopoulos loves the beach community's vibe, "The evolution of Venice is insane, it's now called Silicon Beach with the big tech companies here. We're catering to the new Venice but we also want people to feel that the old Venice is still welcome. It's a beach cafe, so it fits in perfectly. There are amazing chefs here in Venice who have transformed Abbott Kinney and set the bar really high, we're matching the level without the intimidation factor."
Thomopoulos visualizes her dream coming to fruition. "The thing I'm most excited about is the first dinner for friends and family. Being able to put out our best dishes and have them taste our hard work. We'll fill their bellies, put on some salsa music and dance. We'll bring the back of the house all together, validate all the work and celebrate. Then we'll open up for customers to enjoy the food and hopefully be excited about coming back for more."
Thomopoulos' dog Axl is her side kick and co-star on Instagram. Even though as a tiny teacup chihuahua, he in no way represents what you conjure up in your mind when you hear the words 'Great White,' he'll likely become the restaurant's mascot waiting outside for his next cameo appearance as Thomopoulos continues to share her journey and her food.
Wake up to the day's most important news.
http://humortalk.gq/laugh/uploads/2017/06/593f43731d00001a00cc29b3.jpg
729
548
humortalk
http://i.imgur.com/0p5J9r0.png
humortalk
2017-06-13 02:16:37
2017-06-13 02:16:37
Comedian Finds Humor Again As Chef